Paddington gives a hard stare!
Three Billboards on the march, Paddington 2 barely registers – what we learned from the Baftas ---


Even if the Baftas no longer signal a shoo-in for the Oscars, Three Billboards has got its awards mojo back, while Joanna Lumley's hosting debut was a mixed bag
Three Billboards has its momentum back
After suffering a backlash over its depiction of Sam Rockwell's racist cop character and struggling ever so slightly in the guild awards and Oscar nominations, there was the sense that Three Billboards Outside Ebbing, Missouri badly needed a win. Andthe Baftas duly obliged, handing Martin McDonagh's dark comedy drama awards in five categories. Not a landslide haul by any means, but impressive nevertheless given the sense that Bafta voters were otherwise spreading the wealth fairly widely. Now McDonagh and co must hope that this plum haul will convince academy voters to give the film a second look before they hand in their ballots at the end of the month. Perhaps the high-profile recent stories about the film's titular billboards inspiring real-life protests on both sides of the pond might help in that regard: the Academy loves the idea that cinema can make a difference, after all.
But the Baftas aren't an Oscar best picture bellwether
You can usually pretty accurately predict the destination of some Academy Awards based on their Bafta equivalents, particularly in the acting categories (Congratulations McDormand, Oldman, Rockwell and Janney). However, you have to go back to 2013 and 12 Years A Slave to find the last time that Bafta and Oscar voters agreed on best film, a strange turn of events given that the two awards ceremonies for a time seemed to march in lockstep. What that means is that, with the Academy Awards only weeks away, we still have a wide-open best picture race, where any one of at least four films – Three Billboards, The Shape of Water, Get Out and Lady Bird – stand a decent chance of winning.

Lumley is a spirited host, but ceremony looking a bit creaky
If nothing else, Joanna Lumley's debut turn as Baftas host was energetic – especially when compared with the static, stuck-behind-the-podium performances of late-era Stephen Fry. Landed with some truly groanworthy material, she spurned the sideways glance in favour of complete sincerity, and just about got away with it as a result. Nevertheless her choice as host feels in keeping with an awards ceremony that doesn't exactly feel of the moment (see also the extended Cirque Du Soleil segments). Part of the problem is the delayed airing of the ceremony on BBC, which in the age of social media continues to suck all the drama out of proceedings. Bafta are somewhat damned either way on that count – the ratings aren't high enough to convince the Beeb to air the awards smack bang in the middle of their plum Sunday night primetime real-estate, while moving the live ceremony to match the 9pm TV slot would mean Bafta losing out on the next morning's newspaper coverage. Still, for those following at home, the current situation is a pretty limp compromise.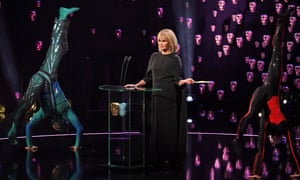 Creaky ... Joanna Lumley hosts the Baftas. Photograph: James Gourley/BAFTA/REX/Shutterstock
It might have been dismissed by some as a gimmick at the Golden Globes, when the red-carpet clothes parade turned into a swathe of black gowns and unfamiliar awards-night dates, but the Bafta's take-two version showed that Time's Up is no flash in the pan. The dresses were (mostly) black – though the Duchess of Cambridge sported a neutral dark green, following royal protocol to steer clear of political gestures – while the activist-companions had a distinctively British flavour. (The winners? Gemma Arterton's two chums, veterans of the "We Want Sex" strike at Dagenham in 1968, who evinced near-total lack of interest in the film-biz faces thronging the carpet around them.) It was so British, in fact, there was even time for a brief invasion and sit-down protest by domestic violence campaigners Sisters Uncut. We've all heard the moans that question the complaints of the well-paid and privileged, but this is evidence that Time's Up is a genuinely significant movement. Next stop: the Oscars.

I Am Not a Witch springs a deserving upset

Film awards shows don't tend to do genuine upsets, but I Am Not a Witch's triumph in the outstanding debut category – over seemingly nailed-on favourite Lady Macbeth – has to count as one. And for once Bafta – which often errs on the side of the stodgy and the safe bet – has for once put its name to something properly forward-looking. Welsh-Zambian director Rungano Nyoni is a true product of modern multiculturalism, having moved from the Zambian capital Lusaka to Cardiff as a child, and then returned there to make her feature debut after being championed by the Cannes film festival. I Am Not a Witch strikes out in new directions in British cinema, in a way perhaps that, for all its virtues, literary period adaptation Lady Macbeth didn't quite manage.


Bafta needs a hard stare for its snubbing of Paddington 2

Unashamedly British, a box-office hit, and the greatest-reviewed movie of all time to boot, Paddington 2 really is the sort of film the Baftas should be celebrating, so its complete shutout here was more than a little mystifying. Certainly, Hugh Grant has every right to feel miffed that his bravura turn as villainous thesp Phoenix Buchanan wasn't amply rewarded – does Sam Rockwell really need another supporting actor gong this year? Paul King's comedy was one of several prominent films that underachieved here, with The Death of Stalin also failing to pick up a single win. Most strikingly, Dunkirk managed just one award – a slightly underwhelming win in the best sound category – which seems scant reward for a critically acclaimed box office juggernaut largely built from British parts. Could unease over its subject matter in the age of Brexit have played a part? Well, admittedly that didn't exactly harm Gary Oldman. More likely, a lack of meaty, actorly roles may have done for Christopher Nolan's war epic at an awards that tends to reward performances over technical virtuosity. Could something similar happen at the Oscars?