Game of Thrones season 8 - release date, episodes, spoilers, filming and everything you need to know. Our final voyage to Westeros begins!
We will soon be faced with that cold, hard reality – the last ever season of HBO's fantasy epic is coming. Feel unprepared? Here's everything you need to know about the end of the saga, from cast to plot spoilers to air dates.
Game of Thrones season 8 release date: When will it air?
It's going to be another long wait, with official word coming from HBO that the eighth and final season will arrive in 2019.
That timeline had previously been tipped by by Sansa actress Sophie Turner - with her on-screen sibling Maisie Williams later suggesting an April return date. However, Williams has since denied releasing that info, posting on Twitter that the quote was "completely false and taken from an interview I did years ago".
HBO President Casey Bloys had previously promised a long wait: "[David Benioff and Dan Weiss, showrunners] have to write the episodes and figure out the production schedule We'll have a better sense of that once they get further into the writing."
"We honestly don't know yet [when the final episodes will air]," Benioff admitted. "There's been a lot of back and forth about air dates. That's a long way off from being settled."
Bloys later acknowledged that Benioff and Weiss's vision for their grand finale is far more "complicated" than prior years.
Bran has a vision ...
"Our production people are trying to figure out a timeline for the shoot and how much time the special effects take," he said.
"The shooting is complicated enough — on different continents, with all the technical aspects — and the special effects are a whole other production period that we're trying to figure out. That is a big factor in all of this."
Ser Jorah actor Iain Glen has also suggested that bringing the show's sizeable cast together for the final outing also complicates matters: "We're all starting to be in the same storylines and so they can't [have two filming units] anymore. I think this last season will take much longer to shoot because they can only use one unit."
Once final GoT episodes land on HBO in the US next year, you can expect Sky Atlantic to simulcast the final season in the UK. (Though, if you can't stomach the thought of staying up that late, there's always the repeat viewing later in the day at the more manageable time of 9pm to look forward to. You can also watch it on demand any time after 2am.)
© HBO
Game of Thrones season 8 cast: Who's in it?
Kit Harington (Jon Snow), Peter Dinklage (Tyrion), Lena Headey (Cersei), Emilia Clarke (Daenerys) and Nikolaj Coster-Waldau (Jaime) are all optioned for an eighth run of episodes in June 2016 – for a reported $1.1million (£885,000) per episode!
© HBO
The Night's Watch will also resurface, according to actor Ben Crompton, who'll reprise his role of Lord Commander Eddison 'Edd' Tollett one last time before his watch is ended for good.
Beyond that, we've definitely seen the last of Indira Varma as Ellaria Sand, as well as Diana Rigg as Olenna Tyrell, with both characters meeting a grisly fate in season 7, episode 3, 'The Queen's Justice'. (Ellaria's demise was implied more than shown, but Indira Varma has said she's not returning.)
Thoros (Paul Kaye) also met his end in episode 6, 'Beyond the Wall' – which probably means no more second chances for Beric Dondarrion in the GoT universe - while Benjen Stark (Joseph Mawle) is also very much dead.
Ellie Kendrick has also cast doubt on a return for Meera Reed - which probably discounts that fan theory about her being Jon Snow's twin sister - while Jason Momoa has ruled out any sort of resurrection for his popular character Khal Drogo.
And, in what counts as the show's biggest casualty for a while, Petyr Baelish (Aiden Gillen) finally got what was coming to him in season 7's finale – so no more Littlefinger in season 8 (unless Arya takes up his appearance, of course).
© HBO
The fates of Tormund (Kristofer Hivju) and Beric (Richard Dormer) are also up in the air, after both were caught up in the devastation wrought by the Night King at the wall. (Hivju has since been spotted in Belfast, which some fans have taken to mean that Tormund survives.)
"The thing is, with so few characters left, [the viewers] should get used to and get ready for... Thrones returning to form and killing its main characters quickly," Kit Harington has said.
"They're going to go, and they're going to go fast, and I think that the payoff of our characters not being in great peril this year will be that, next year, it's going to be a bloodbath."
Even in the show's dying days, new cast will be joining the ranks – including "a straight-talking" and "Northern-accented" young girl, a tough young boy who "has to fight to make his way in the world", a middle-aged mercenary (part of the Golden Company?) and a rough-and-ready sailor.
Marc Rissman (The Last Kingdom) confirmed via his Spotlight CV that he'd be playing Harry Strickland, leader of the Golden Company, in season 8, though the credit was later deleted. Whoops!
It's also been revealed, thanks to her resumé, that Danielle Galligan will star in the final season as a character named Sarra – and the only Sarra we know from the books is Sarra Frey, so could House Frey be making an appearance and should Arya watch her back?
Behind the camera we also have a full list of season 8 directors – and, after sitting out season 7, Miguel Sapochnik (who helmed season 6's breathtaking 'Battle of the Bastards' and season 5's stunning 'Hardhome') will be back for multiple instalments.
David Nutter ('The Rains of Castamere') is also returning, while Benioff and Weiss will tackle the series finale themselves.
Game of Thrones season 8 episodes: How long will it run?
In June, Benioff and Weiss appeared to confirm that the show would wrap up with two shorter seasons.
"It's two more seasons we're talking about," Benioff said. "From pretty close to the beginning, we talked about doing this in 70-75 hours, and that's what we'll end up with. Call it 73 for now."
© GETTY IMAGES DANNY MARTINDALE/WIREIMAGE
Given the 67 hours that were covered by the close of season 7, that leaves us with just 6 remaining – and in March 2017, we finally had it 100% totally officially confirmed that the eighth and final season will span just six weeks.
"Every single episode of the six you've got left in Season 8 is gonna be monumental," Samwell Tarly actor John Bradley said. "I think you're gonna get six 'episode nines' this year."
It's believed that GoT story editor Dave Hill ('Home', 'Son of the Harpy') will write the season 8 premiere, while producer Bryan Cogman will pen the second (having previously written 10 episodes, including 2015's controversial 'Unbowed, Unbent, Unbroken').
Benioff and Weiss will then divide up the remaining four episodes – including, of course, the grand finale.
"There's probably a world where we could have milked this thing for another eight seasons, and that would have been very lucrative for all of us," acknowledged Cogman. "But [Benioff and Weiss] really wanted to go out on a good high point."
Sophie Turner as Sansa Stark.
Ser Davos actor Liam Cunningham suggested that filming on the final season would commence in September 2017, while Sophie Turner also let slip in February 2017 that she'd be back filming on Thrones later in the year.
Jaime actor Nikolaj Coster-Waldau later revealed that he'd be back shooting from October 2017, while Cunningham (again) suggested that the cast will be filming "bigger" and "longer" episodes up until the summer of 2018.
By January of that year, Peter Dinklage confirmed the the cast were about halfway through filming the final season. "It's the final season, and it's a long one so we're taking our time," he added.
There's even been talk that all six of the final GoT episodes will be feature-length, spanning around 80 minutes each. Casey Bloys has hinted that individual episodes might even run to two hours. Now that's epic!
"We know we have six episodes – we are not sure whether they will run for 70 minutes or even 90 minutes," Kit Harington clarified in January 2018. "The length will be a network decision."
There's talk of each episode costing a whopping $15 million – up from reported figures for the previous season (which is said to have cost somewhere between $10-14 million per ep).
Fewer episodes doesn't necessarily mean less of your favourite characters, either. "You kill a couple dozen characters, the people who are left by default need to carry more dramatic weight," Weiss explained.
Oh, and one last thing: once it's over, it's over, with HBO shooting down any hopes of a Game of Thrones revival a few years down the line. "That's not happening," network boss Casey Bloys told The Hollywood Reporter. "This story, A Song of Ice and Fire, is done."
Game of Thrones ending: What will happen in the final episodes?
It's all so secret, Nikolaj Coster-Waldau has claimed the cast won't even get scripts for the final episodes, but will be fed their lines through an earpiece. We're going to assume he was joking...
In fact, Peter Dinklage later reflected on reading the final scripts for the first time. "It was heartbreaking," he admitted. "And the end of an era."
And how! Leaked set photos have already hinted at a huge game-changer in this final season...
It looks as though Winterfell will burn - and maybe even be destroyed. More bad news for House Stark...
As for where we left off... Cersei's call for a truce between herself, Jon and Daenerys was so convincing that even Jaime fell for it. But it was all a ruse – instead, she's going to let her rivals deal with the undead threat, while she teams up with Euron and the Golden Company to finish off whoever survives. "The thing that gave Cersei humanity was her kids," Lena Headey said back in 2016. "They're gone now."
Of course, Cersei now claims to be carrying Jaime's child – so, presuming she's telling the truth, could this prove to be her salvation? And will it come too late? With Jaime finally leaving his sister's / lover's side at the close of season 7, could the Queenslayer fan theory be about to come true? "I heard that theory, and it absolutely makes sense," Coster-Waldau said. "Maybe it's too neat, but who knows?"
He later suggested that Jaime might not even be "capable" of killing Cersei after all that's gone between them, even if - as of season 7's finale - he appears to have turned his back on her.
For her part, Headey isn't expecting her character to find redemption any time soon, while Coster-Waldau has hinted at things getting even "more complex" between the siblings / lovers.
Fans, meanwhile, have speculated that Cersei might meet her end at Jon Snow's hand – or that The Hound might (indirectly) be responsible for her downfall. Whatever happens, even Headey is convinced that her character is "f**ked" and doomed to die before the series is over.
Will Jaime turn to the dark side, or the light? Or is Jaime secretly mankind's saviour, the Prince that was Promised, as some fans have theorised?
If things are looking bad for Cersei, they're not exactly peachy for Daenerys, either. One dragon down, she might have to face off against Jon next season – they've become lovers, but we suspect their relationship will sour once Jon's true heritage is revealed.
"It complicates everything on a political level, and on a personal level," Benioff has said. "and it just takes everything that could have been so neat and kind of perfect for Jon and Dany, and it really muddies the waters."
Fans are also convinced that - despite previously being shown as unable to carry a child - Daenerys is pregnant with Jon's baby after their tryst in season 7's finale. Talk about complicated...
Plus, has Tyrion betrayed his Queen, by facilitating Cersei's lie about aiding the battle against the dead? Fans think that might be the case. Dark times might lie ahead for Dany, who appears to be sporting a shorter hairstyle in season 8.
Fans have also been speculating that the Cleganebowl – a face-off between The Hound and his now zombified brother The Mountain – will finally come to pass.
"I did notice a lot of people were talking about the Cleganebowl – people were waiting for me and my brother to fight," Gregor Clegane actor Hafþór Júlíus Björnsson told us.
"There's a lot of expectation from the fans to see that happen – obviously I cannot comment on that... you're just going to have to see what's gonna happen!"
The Mountain and The Hound did come together briefly in season 7's finale, with Sandor telling his brother, "You know who's coming for you. You've always known."
Of course, after they brought down the Wall, a final clash with the White Walkers is sure to be on the cards... with Liam Cunningham hinting that "a lot" of characters will come together to battle a common threat.
"The progress of the show with the White Walkers and all that stuff, it's pretty obvious nobody's going to be able to take this force on on their own," he said.
"So when we've had all these, for all these seasons, disparate stories come from disparate ends of Westeros, it has been – and it's been signalled from the end of [the sixth] season – that there's a lot of people and situations going to be coming together."
Producer Bryan Cogman went on to tease: "There are White Walkers and dragons and once they start to come together the story has to go where it goes."
"For a long time we've been talking about 'the wars to come' – well, that war is pretty much here," Benioff said, with Nikolaj Coster-Waldau hinting that main characters could perish and be resurrected as White Walkers.
We're expecting more than a few casualties... and speaking of the deceased, don't expect Lady Stoneheart to make an appearance on GoT any time soon.
Though Catelyn Stark was resurrected in Martin's novels, she's yet to resurface on the TV show and director Mark Mylod has insisted he's had "not had one discussion" about the character in the GoT writers' room.
© HBO
Sansa will apparently be facing "a new threat" this season (the White Walkers, or something else?), while John Bradley has promised that his character Sam and Bran will prove to be a "formidable" team.
"What I think links those two characters is that they're both characters who are in possession of abilities and skills that nobody else has," Bradley said. "Between them, they're such a formidable team because, OK, they can't fight between them, they don't have much physical power between them, but both of their set of skills are so unique."
Bradley - that old blabbermouth - has also suggested that we'll see a whole lot more zipping back and forth across the Seven Kingdoms. "Each of the characters this year is placed in a completely alien environment at some point in the season that they've never been placed in before," he said.
"The thrill is seeing how they react to it and how they respond… This season, I think, more than any other is stretching these characters."
As for the how the series as a whole will draw to a close? "We know what the end is, and we're barrelling towards it," Benioff and Weiss said of what's sure to be the most highly scrutinised series finale since Lost.
The tight-lipped pair haven't given any clue as to what that ending might entail – though George RR Martin has hinted at a "bittersweet ending" for his A Song of Ice and Fire books, which serves as the (increasingly loose) inspiration for Game of Thrones.
GRRM has also shared a significant twist – or "holy shit moment" – with Benioff and Weiss, which won't make it to the screen till "the very end" of the show.
There are certainly a number of prophecies yet to be fulfilled, as well as plot threads still lingering, which fans will be expecting to be resolved in GoT's last six episodes.
There's the identity of the Prince that was Promised, Jon discovering he's really Aegon Targaryen, Cersei meeting her end at the hands of the the "valonqar" (high Valyrian for "little brother"), the aforementioned Cleganebowl and much more...
Whatever happens, Sophie Turner has revealed that the Game of Thrones cast "burst into tears" after finishing the final ever script at the readthrough. Sounds emotional...
"At the end of the very last script, they read aloud, 'End of Game of Thrones.' As soon as they read that out, pretty much everyone burst into tears. There was a standing ovation for [showrunners David Benioff and Dan Weiss]. We were all clapping and cheering. It was amazing."
Isaac Hempstead Wright (Bran) has acknowledged that, while the series finale is unlikely to please everyone, "we're all so confident in the way this story goes and the message it gives and how the whole story arc works."
Meanwhile, John Bradley told us that the very final Game of Thrones episode could change our entire perception of the series.
"Because we don't know how it ends – we don't know who wins or who loses – we've got no idea what kind of story we're telling," he suggested. "We don't know if it's an indictment of how bad people can triumph if good men do nothing, or a redemptive story about good triumphing over evil."
But even if he's not sure what kind of tale is being told, Bradley is convinced that Samwell will make it to the end of it: "If he's still around at this stage, you do suspect that there is gonna be a point to keeping him around."
Casey Bloys has even hinted at GoT shooting "multiple versions" of the very final scenes, to prevent leaks, though Nikolaj Coster-Waldau later suggested this would be "really stupid" and hardly a cost effective move. "You're not going to waste $100,000 a day to shoot something you're not going to use - it's not going to happen."
One things for certain: the final episodes will be a bit of a bloodbath, with the concluding eighth season being described as "carnage" by the cast.
In January 2018, some scripts purporting to be genuine extracts from season 8 were leaked online, which included MAJOR spoilers, including confirmation of at least one massive character death.
HBO is yet to comment on the leak, so it's possible the scripts were fakes. Time will tell...
"I have days where I make lots of progress, I have days where I make next to no progress," Martin told Digital Spy back in 2014, discussing his long-awaited next book The Winds of Winter.
The sixth novel in his fantasy saga, Winds has been in the works for several years now – before even the first episode of Game of Thrones had aired on HBO.
In January 2016, having missed a series of deadlines, Martin confirmed that the book wouldn't be published before the launch of season six of the TV series.
GRRM suggested in January 2017 that the book would finally "be out this year", though he did add: "But hey, I thought the same thing last year."
Yes, indeed - and 2017 came and went, with no new book on the shelves. "I do think you will have a Westeros book from me in 2018," he later insisted. "Who knows, maybe two? A boy can dream."
Until we hear differently, mark 2018 on your calendar (an image posted on Martin's Twitter feed in October 2017 showed Santa's sleigh being pulled by a dragon, which some fans believe means Santa will bring the gift of The Winds of Winter's release later this year.)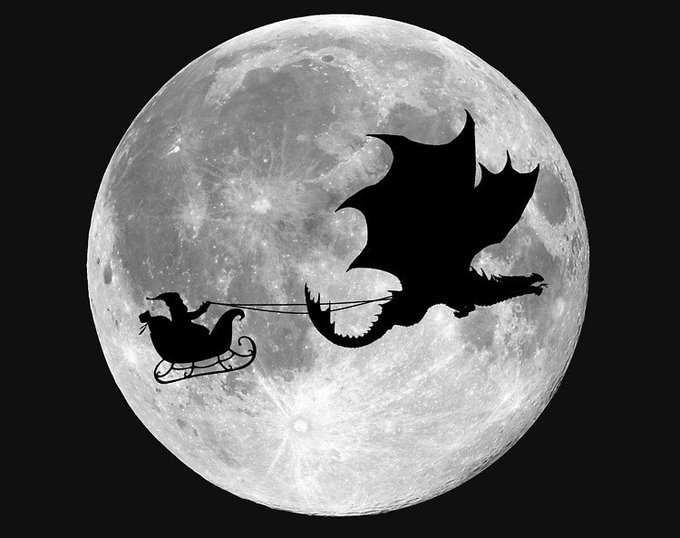 George RR Martin
✔@GRRMspeaking
... I thought 2016 was a bad year, but 2017 was even worse... if not so much for me personally, then certainly for a lot of my friends and loved ones, and for the nation and the world as a whole. I hope better times are ahead for all of us. #hopeful
6:00 PM - Dec 30, 2017
16.2K
3,662 people are talking about this
And while HBO's season six – which consisted of mostly original material – was relatively optimistic by GoT standards, Martin's warned that his book could be decidedly less buoyant.
"I've been telling you for 20 years that winter was coming," he noted. "Winter is the time when things die, and cold and ice and darkness fill the world. So this is not going to be the happy feel-good that people may be hoping for. Some of the characters [are] in very dark places."
He gave us another update in July, hinting that his Winds will "be different [to the TV show] in some ways, but will [run] parallel... in others".
"At this point, there are probably a dozen characters who are dead on the show but alive in the books, so it would be impossible for the two to remain the same," Martin said.
Game of Thrones spin-offs and prequels: Will there be a movie?
In May 2017, news broke that HBO was officially developing at least four – yes, FOUR – different spin-offs, with four different writers: Kong: Skull Island's Max Borenstein, Kingsman: The Secret Service's Jane Goldman, L.A. Confidential's Academy Award winner Brian Helgeland and Westworld's Carly Wray.
Little has been revealed about these in-development projects, though Goldman's revealed that her pitch does involve her signature humour and love of gore.
© DABEL BROTHERS PRODUCTIONS
GRRM later revealed that in fact five different shows are in development, all prequels, with no established characters, with the fifth and final project coming from GoT's co-executive producer Bryan Cogman.
None of the spin-offs, by the way, chronicle Robert's Rebellion – and an adaptation of Martin's Dunk and Egg novellas has also been ruled out. There'll be no returning characters from the parent show, either - though it's possible that the central families (the Starks, the Lannisters, etc.) could feature in some form.
Only one of these potential series is expected to ever make it to screen, and even then not for a long time, with Bloys explaining that each of the projects is at an "embryonic" stage as of June 2017.
In late July 2017, Bloys gave another update, saying that the spin-offs won't air until at least a year after the series ends.
"The number-one priority in all of this is the final season of Game of Thrones," he told reporters. "I don't want to do anything with a spin-off or anything that detracts or distracts from that. That [final Game of Thrones] season will happen and my guess is it would be at least a year before you saw anything else.
© HBO
"What I don't want is the attention to be drawn from the final season, which I think is going to be epic and amazing, and somehow have the distraction of a new Game of Thrones airing right after that. It's best to separate it and that's what we'll do."
At the time, Bloys added that the jury is still out on whether Game of Thrones will end next year as originally planned or be pushed into 2019 — the latter being a scenario that would presumably push any spin-off into 2020, at least.
We could possibly see two or even three make it to the pilot stage, with one series emerging on air in 2019 or 2020," GRRM has suggested.
In October 2017, HBO chairman Richard Plepler confirmed that no decision had been made on which pitch(es) would go to series. "I think we will find with this embarrassment of riches an exciting property for us to move forward with. We are looking at some things, I have read a couple of early bibles and I'm excited about what I've seen."
There's been talk too of a Game of Thrones movie. And we'll give you one guess who's been doing most of the talking.
"It might need a feature to tie things up," George RR Martin said back in March 2014. "Something with a feature budget, like $100 million for two hours. Those dragons get real big, you know..."
Game of Thrones season 7 finale: What happened in 'The Dragon and the Wolf'?
Just in case you need reminding: Littlefinger was killed by the Stark sisters as they entrapped him in a public defence of his crimes. Bran acted as chief witness, Sansa was the judge and Arya the executioner, as she cut his throat open with the Valyrian steel knife.
Jon Snow and Daenerys Targaryen consummated their relationship. However, Jon's status as a legitimate Targaryen was also confirmed – confirming not only that Dany is his aunt, but also that he has a better claim to the Iron Throne than she does.

The White Walkers finally made it into Eastwatch, with The Night King riding Daenerys's reanimated dragon Viserion, using the beast's blue flames to obliterate the Wall.