Guillermo del Toro has created a richly sensual and dreamlike film that, in the end, seduced the Academy without being too threatening.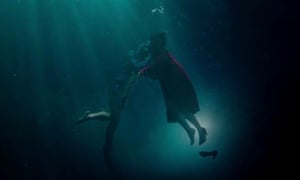 'Current and swirl' ... The Shape of Water Photograph: Allstar/Fox Searchlight Pictures


At the end of a somewhat predictable evening, we were all longing for Warren Beatty and Faye Dunaway to work their anarchic magic, and start handing out the awards to the films that weren't in the envelope. Perhaps for the sheer devilment, they could have given something to, say, Kathryn Bigelow's powerful race drama Detroit, a highly plausible Oscar-worthy film, which the Academy hive mind mysteriously decided was worth precisely zilch and became utterly forgotten about. In the end, many deserving films got what they deserved, others didn't, the internal economy of awards season dictating, as it so often does, that the rich become richer. And it was hardly obvious that this was the year of radical change in Hollywood's sexual politics. As my colleague Benjamin Lee notes in his blog this year's Academy Awards in fact garnered the fewest female winners for six years.

Guillermo del Toro's escapist fantasy-romance The Shape of Water was the biggest winner, the story of a young woman's love for a captured sea creature — with best picture and best director, setting the official seal of approval on what is, by any measure, a beautifully made movie to which audiences have responded with distinctively sensual delight. It is a lovely piece of work, with a terrific performance from Sally Hawkins: you can get to the end of it, not quite believing that she doesn't say a word in the entire film, so commanding and eloquent is her presence. And yet in the end I couldn't quite swoon as much as everyone else – and though this is a film which pays tribute to people who are different, it does so in the reassuring rhetoric of fabular unreality. There is something a little bit frictionless and unscary about The Shape of Water; though in progress, it has the eerie force of a dream. The Academy has gratefully submitted to its current and swirl.

From the acting awards, for me, easily the most satisfying is Allison Janney's barnstorming turn as LaVona Golden in I, Tonya: the dragon matriarch or icerink showbiz mom in I, Tonya, whose daughter Tonya Harding became an skating star and was then disgraced because of her ex-husband's assault on her rival Nancy Kerrigan. Like Frances McDormand in Three Billboards Outside Ebbing, Missouri, Janney plays an angry and unrepentant mother, and maybe the prevalence of mothers has been an under-recognised part of this year's awards seasons, especially as Sam Rockwell's racist cop in Three Billboards actually lives with his mother. (There is also Darren Aronofsky's brilliant black comic provocation, Mother! — overlooked, I am sorry to say, by the middlebrows and the sensible-shoe wearers of awards season, except of course to be mocked.) Janney's LaVona is a brilliantly nasty, funny creation, who is spared any spurious redemptive journey.

Frances McDormand and Sam Rockwell got the best actress and best supporting actor Oscars for Martin McDonagh's jagged, angular, tonally unpredictable and – for some objectionable – black comedy Three Billboards Outside Ebbing, Missouri. The success of this film and the specific successes of these two stars in these two roles perhaps raises the thorny issue of intersectionality. McDormand radiated star quality in the part of the woman looking for justice for her raped and murdered daughter. What also radiated was her character's radioactive loathing of the police and of the men who didn't and don't care about women. She is a resoundingly satisfying and powerful winner in the era of #TimesUp. But Sam Rockwell's racist cop is permitted a disputed moral comeback, and it sometimes looked as if his racism was allowed into the film as set-dressing, to offset a drama of forgiveness to which race was essentially irrelevant.

The movie's admirers have been in a kind of Mexican standoff with this objection ever since it has been aired on social media, although I accept the good faith in which McDonagh created this character. Perhaps the least successful part of the film is that which is most easily forgotten: the sad, slightly whimsically uxorious tale of Woody Harrelson and his wife, played by Abbie Cornish. I personally would have preferred the best actress award to go to Saoirse Ronan for that excellent film Lady Bird, which came away from Oscar night empty-handed. And best supporting actor should really have gone to Willem Dafoe for his outstanding performance in The Florida Project: a performance which had a subtlety, resonance and genuine depth.

Of these three aforegoing adjectives, I think I can only really assign "resonance" to Gary Oldman's impersonation of Winston Churchill in Joe Wright's watchable wartime drama Darkest Hour, which won him his widely predicted best actor Oscar. He was roisteringly entertaining and charismatic, and the latex mask within which he was working – interestingly different from the real, lived-in faces of other Churchill performances over the years – gave his face precisely that babyish, cherubic expression that reportedly made him a seductive figure in real life. It was a highly watchable entertainment: comfort-food wartime entertainment, perhaps, but with a terrific storytelling zing. What actually made it different was not Oldman, in fact, but the emphasis on Halifax, an excellent performance from Stephen Dillane.

The screenplay Oscars (and the foreign language Oscar) made sure that the really great movies were not overlooked. James Ivory was a thoroughly deserving winner of the best adapted screenplay Oscar for his excellent work on Luca Guadagnino's masterly love story Call Me By Your Name. It is highly satisfying to see Ivory, a veteran of cinema, get an Academy award which is not a lifetime achievement gong (though he surely deserves one of those as well) but something to recognise his continuingly vivid, urgently passionate work right now.

Get Out was the film that I had been hoping against hope might actually win best picture. Well, it won Jordan Peele the Oscar for best original screenplay, which is excellent news. Get Out is a brilliant satire on race and the gruesome twist ending of post-Obama America which functions also as a scary movie, black comedy and an acting masterclass from its four leads.

Very often, the foreign language Oscar is an embarrassing misstep for the Academy. Not last night it wasn't. I was tipping Ildikó Enyedi's strange love story On Body and Soul for this, while saying that Andrei Zvyagintsev's searing Russian drama Loveless would have been the worthy winner. In the end, I was wrong both ways – but fair enough. The Oscar went to Sebastian Lelio's glorious A Fantastic Woman, the story of a trans woman whose grief at the death of her partner is compounded by the cruelty and indifference of society. It is a wonderful film.

Elsewhere, there were other solid choices: Coco was the only possible choice as best animation, and this arguably could and should have been a best picture contender — although it is hardly in the league of Pixar movies like The Incredibles or the Toy Stories. Roger Deakins rightly won best cinematographer for his superb work on Denis Villeneuve's Blade Runner 2049, although this award, justified as it is, perhaps doesn't reflect quite how extraordinary a big-screen experience this film is.

Mark Bridges was also justly rewarded for his costume design on Phantom Thread — but for me this is another point of niggling exasperation with this year's awards. Paul Thomas Anderson created another brilliant film here: a really masterly piece of work with a performance by Daniel Day-Lewis which was a jewel of this year's awards season. And yet it has been overlooked in favour of less interesting work.

Well, there we are. To return to The Shape of Water: however conflicted I feel about its triumph, it is certainly the work of a real artist, and someone who believes in immersive cinema, total cinema, cinema that enfolds you in a complete created world.