The Looming Tower review – thorough, thrilling drama retells the road to 9/11
In the small-screen adaptation of Lawrence Wright's Pulitzer-winning book, bureaucratic breakdowns and government infighting are dramatized in compelling fashion.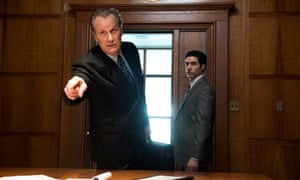 The best performances here are those of Daniels and Sarsgaard, as O'Neill and Schmidt, whose contempt for one another is seething and unpropitious. Photograph: Hulu
Despite the fact that they don't have a proven track record creating narrative television, the trio behind Hulu's new pre-9/11 miniseries, The Looming Tower, are in their own way perfectly equipped to tell the story of the US government's ill-fated attempts to prevent the attacks, a tale of interagency discord and unheeded warnings.
They include Lawrence Wright, who wrote the Pulitzer-prize winning book of the same name, a sprawling, journalistically rigorous account that stretches from the Soviet intervention in Afghanistan through the towers' collapse. He works alongside showrunner Dan Futterman, whose scripts for the films Capote and Foxcatcher each nabbed Oscar nominations. And, finally, there's executive producer Alex Gibney, the documentarian behind granular-yet-absorbing tales of institutional malpractice like Enron: The Smartest Guys in the Room, Going Clear, and the fantastic new Netflix docuseries Dirty Money.
With The Looming Tower, they have joined forces to create what should be, after The Handmaid's Tale, Hulu's second major success, a story of bureaucratic breakdown akin to two outfielders chasing after a fly ball, waving their mitts in the air, and crashing into each other. It stars Jeff Daniels, as FBI counter-terrorism expert John O'Neill; Peter Sarsgaard, as CIA analyst Martin Schmidt; Michael Stuhlbarg as Richard Clarke, the chief counter-terrorism adviser on President Clinton's national security council; and Tahar Rahim, who plays the Lebanese-American FBI agent Ali Soufan.
The book and show's title refers not only to the Twin Towers but also to a passage from the Koran – "wherever you are, death will find you, even if you are in lofty towers" – quoted by Osama bin Laden not long before 9/11. Nevertheless, the towers themselves indeed loom over the series, which is no less gripping because we know where it's headed. To the contrary, tension builds like heat in a pressure cooker as the FBI and the CIA take radically different and conflicting approaches to mitigating the threat from al-Qaida.
The best performances here are those of Daniels and Sarsgaard, as O'Neill and Schmidt, whose contempt for one another is seething and unpropitious. O'Neill, a 20-year veteran of the bureau and special agent in charge of the New York City field office, clocks the threat from al-Qaida in the mid-90s, imploring the CIA to share its intelligence with the FBI before an inevitable strike. He's no saint, sleeping around with multiple mistresses to whom he methodically delivers canned lines and flower bouquets, but he's perhaps the closest thing to a protagonist in a story populated mostly by perennial bureaucrats.
Meanwhile, Sarsgaard's Schmidt is the callous and impossibly smug CIA man, who closes the shutters to his office when FBI folk come snooping around. The disagreements between them are hostile and numerous, but it boils down to O'Neill's unease about pre-emptive, CIA-coordinated strikes causing extensive civilian casualties and Schmidt's concern that law enforcement will "blow a possible goldmine of information and render it utterly useless".
Complicating matters are the political ramifications of inaction which, as the Clinton-Lewinsky imbroglio rages on, are extensive. One of the best things about The Looming Tower is how it taps into that frenzied era: there are crude, jocular references to "cum-stained dresses", shoulder pads and proto-flip phones, and dull, colorless interiors.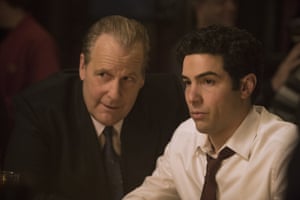 Jeff Daniels and Tahar Rahim in The Looming Tower.
Like the book on which it's based,
The Looming Tower
is very much an ensemble, and there are quietly great performances delivered by Stuhlbarg, playing Clinton's counter-terrorism czar, and Bill Camp, a criminally under-recognized actor of mighty force. As Robert Chesney, Camp gets a brilliant 10-minute-plus interrogation scene with the perpetrator of the US embassy bombing in Nairobi, the basis for the Americans' controversial, retaliatory strikes in Khost and Khartoum, known as Operation Infinite Reach and portrayed unnervingly in the show's third episode. The show's other formidable supporting player is Rahim, who as Ali Soufan, one of only eight Arabic speakers in the entire FBI, is empathetic and intrepid.
With all this testosterone percolating, the show's women receive predictably undeveloped storylines: O'Neill's wife and mistresses are glommed together as one-half of his requisite work-life dilemma, and other characters, like Soufan, interact with their romantic interests cursorily. I also wanted more of Virginia Knull, playing an FBI agent, and Wrenn Schmidt, a sharp-tongued prodigy at the CIA.
Far more interesting and edifying is the action in Nairobi, Dar es Salaam, Tirana and Khost, which is rendered with more compassion and context than American shows generally approach the Middle East. In one of the episode three's most affecting scenes, we see children playing with a hacky sack before the US cruise missile strike on an al-Qaida camp in Afghanistan.
The Looming Tower could have been stymied by our familiarity with its denouement, but like so many 90s stories being reprised today it's approached with enough distance and scrupulousness that it rarely feels like a slog.
One way that is achieved is by interspersing scenes of Schmidt and Clarke's testimony from the 2004 9/11 commission with the action taking place in 1998, a device that strangely works. It ensures, and this may well be the stamp of Gibney's documentarian sensibility, that the series doesn't lose the forest for the trees, letting us see how interagency scuffles become fatal oversights. As in another story of systemic dereliction, The Big Short, The Looming Tower asks not what happened but, more compellingly, who saw it coming.