Three Billboards Outside Ebbing, Missouri
took home
four
awards at the 75th annual Golden Globes but it was the
#MeToo movement
that led conversation in a politically charged ceremony.
The small-town drama won best motion picture (drama) as well as best screenplay, best supporting actor and best actress (drama) for Frances McDormand, who spoke about the importance of women speaking out against sexual predators.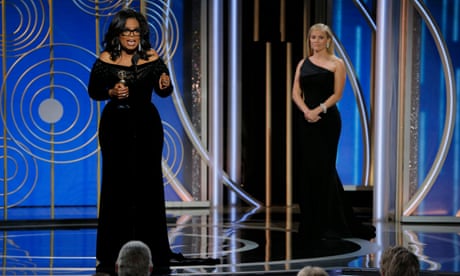 Oprah Winfrey's stirring Golden Globes speech prompts talk of White House run
"I keep my politics private, but it was really great to be in this room tonight, and to be part of a tectonic shift in our industry's power structure," said McDormand. "Trust me: the women in this room tonight are not here for the food. We are here for the work."
In the other individual categories, Guillermo del Toro won best director for
The Shape of Water
, the most nominated film of the night. Gary Oldman won best actor (drama) for playing Winston Churchill in
Darkest Hour
, while Saoirse Ronan of
Lady Bird
and Allison Janney of
I, Tonya
won best actress in a comedy/musical and best supporting actress, respectively.
As at September's Emmy awards, the television categories were dominated by
Big Little Lies
, which won best limited series, and
The Handmaid's Tale
, which was awarded best drama. Its stars did not go home empty-handed, either: Elisabeth Moss won best actress for
Handmaid's Tale
, while Nicole Kidman, Laura Dern, and Alexander Skarsgard were all honored in their respective categories for their work on the HBO adaptation of Liane Moriarty's best-selling novel
Big Little Lies.
Kidman, who plays a victim of domestic violence in
Big Little Lies,
said she hoped the show would continue to shed light on the challenges faced by women both at home and in the workplace. Kidman said: "This character that I played represents something that is the center of our conversation right now: abuse. I do believe and I hope that we can elicit change through the stories we tell and the way we tell them."
The revelations about sexual harassment in Hollywood cast a shadow over the evening, from the black dresses worn by almost every attendee to the many 'Time's Up' pins that could be seen pinned to lapels in support of an initiative launched last week to combat workplace harassment.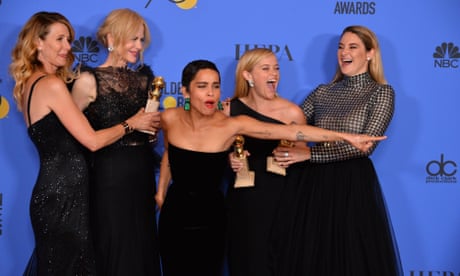 Cast of Big Little Lies - Big Winners! - head to the after party!
Actors such as Meryl Streep, Michelle Williams, and Emma Watson further expressed their support for the victims of abuse by choosing to bring various gender and racial justice activists as their dates, including Tarana Burke, the founder of the #MeToo movement, and Ai-jen Poo, the director of the National Domestic Workers Alliance.
But no one took quite as forceful a stand as Oprah Winfrey, who became the first black woman ever to win the Cecil B DeMille lifetime achievement award and used her acceptance speech to give a searing rebuke of racial injustice, sexual abuse, and attacks on the integrity of the press.
"I want all the girls watching here, now, to know that a new day is on the horizon!" Winfrey, who was introduced to the stage by Reese Witherspoon, said to a standing ovation. "And when that new day finally dawns, it will be because of a lot of magnificent women, many of whom are right here in this room tonight, and some pretty phenomenal men, fighting hard to make sure that they become the leaders who take us to the time when nobody ever has to say 'Me too' again."
Just months after producer Harvey Weinstein, along with Kevin Spacey, Charlie Rose, and Louis CK among others, was accused by multiple victims of sexual abuse, the evening was politically charged, as actors addressed the industry's long-awaited reckoning with sexism, the wage gap, and harassment.
Natalie Portman, while announcing the nominees for best director, went off-script to note that each one was a man.
But there was progress, too: Sterling K Brown became the first black man to win the award for best actor in a TV drama (for
This is Us
), while Aziz Ansari became the first Asian man to win best actor in a TV comedy (for
Master of None
).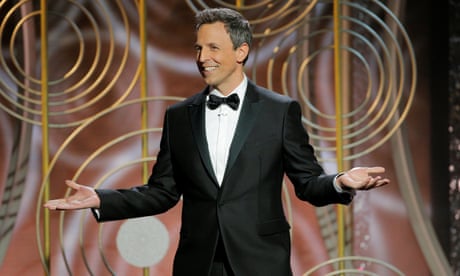 Seth Meyers takes on Weinstein and Spacey in fiery monologue
Host Seth Meyers brought a mixture of levity and earnestness to his opening monologue, in which he took verbal jabs at Woody Allen, Spacey, and Weinstein, whose absence from the ceremony was glaring in the wake of over 70 allegations of sexual misconduct. "Don't worry, he'll be back in 20 years when he becomes the first person to be booed at the annual In Memoriam," Meyers quipped.
Many had speculated about whether Meyers would address sexual abuse and harassment in his monologue. And he didn't disappoint.
"It's been years since a white man has been this nervous in Hollywood," Meyers said. "For the male nominees in the room tonight, this will be the first time in three months it won't be terrifying to hear your name read out loud."
In the best comedy series category, the Globes continued its tradition of honoring new shows by awarding
The Marvelous Mrs Maisel
, whose star Rachel Brosnahan also won for best comedy actress. Elsewhere, Lady Bird squeaked out a win over Jordan Peele's
Get Out
for best comedy/musical, while
Coco
won for best animated feature.
The awards are often seen as vital precursors for the Oscars, nominations for which will be announced on 23 January.